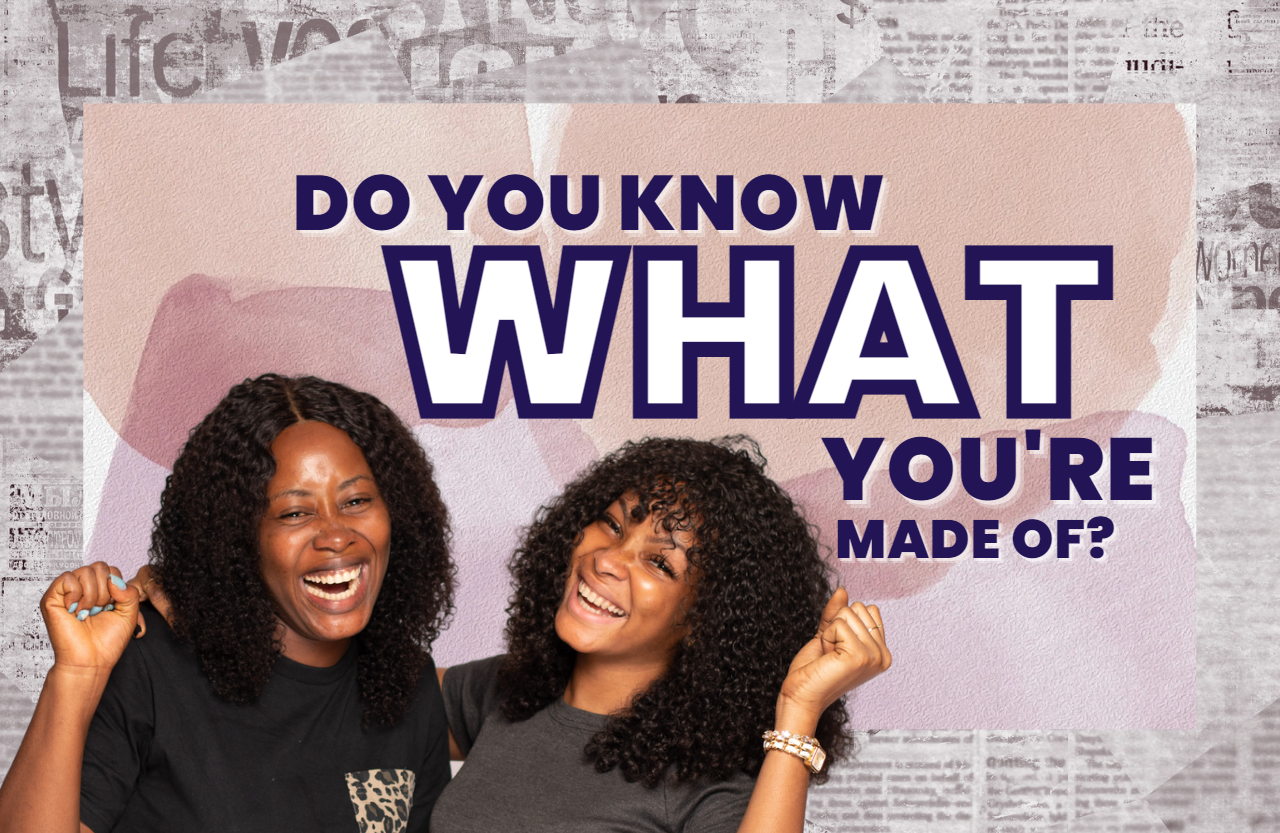 Do You Know What You're Made of?
Because one believes in oneself, one doesn't try to convince. Because one is content with oneself, one doesn't need others' approval. Because one accepts oneself, the whole world accepts him or her.

Rosalynn Carter
I used to have a colleague that always referred to himself as a genius and it would usually irk me but it has worked so far for him. He has accomplished great feats over the years. To me, I felt it was a display of hubris but I had to ask myself why I was triggered or threatened by someone identifying themselves as a whiz.
Could it be that I expected him to be modest about who he was or to downplay his worth just to make me and others around him feel more comfortable?
Have you noticed that we sometimes feel intimidated by those who are doing the things we don't dare to do? 
Have you also noted that people tend to see us more than we see ourselves?
Have you asked yourself why you brush off compliments completely or never see yourself in the positive light that others see you? 
Maybe, it's because you do not give yourself enough credit for who you are or maybe it's because you do not know what you're made of. If you don't know how great or how incredibly talented you are, it doesn't matter if the whole world tells you that you are, you will never fully accept that you are.
A negative comment by somebody on your work or art or fashion sense and you could be completely thrown off balance because your validation comes solely from what everyone else thinks or says that you are, not from who you know yourself to be.
It is not sufficient to know what we're made of but we must come to embrace them. Living in denial will not take us anywhere. Playing down who you are or what you're capable of accomplishing is not humility. It is self-sabotage.
This is not to support toxic positivity in any way. I rather people become self-aware of who they are and what they're made of and come to completely accept their true selves. This is the first step to living a fulfilled life.
When you can stare at your truth in the face and acknowledge it without shame, then you become liberated. You become free to live in your truth and work on areas where you need to be better.
You need to be honest with yourself. Some of you have the most resilient of spirits so what are you doing hiding in your comfort zone?
Some of you have been groomed and the world could do with your intellectual ideas right now, so why are you lurking in the shadows?
So, instead of loathing those who have already identified what they're made up of and are putting in the work to become all that they have been made to be and have begun to attain yields, why not take your eyes off of them and begin a self-discovery? They are not your competition.
You are just ignorant about who you are. Do the work. Put in the labour; all that it takes.
As this quote commonly attributed to Maya Angelou goes "Do the best you can until you know better. Then when you know better, do better."