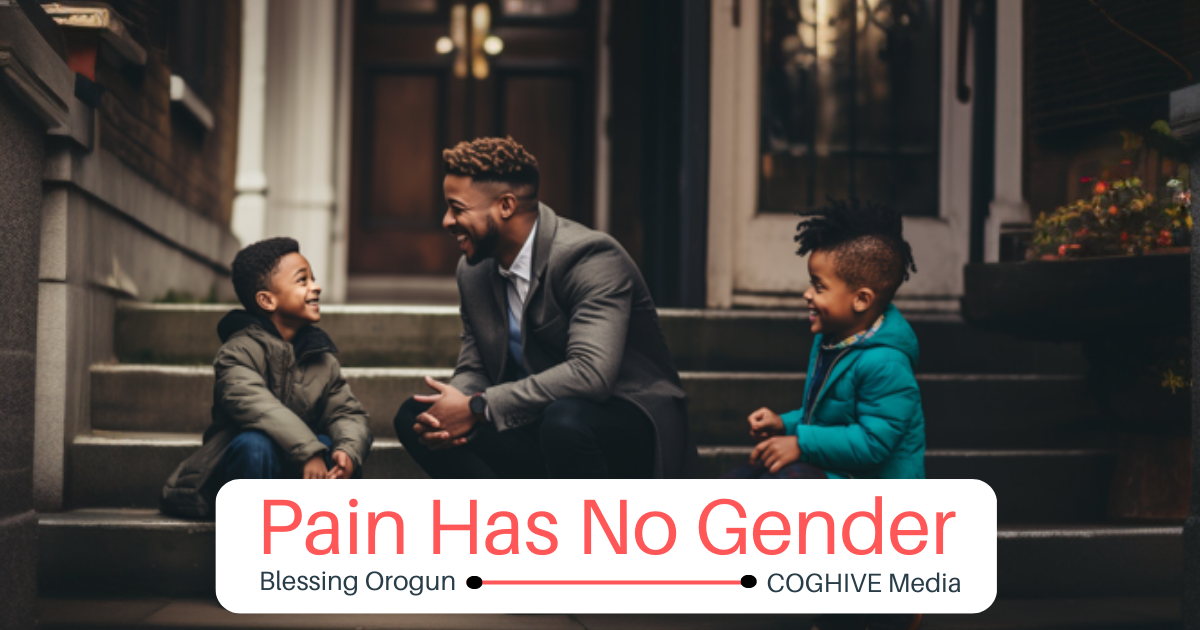 Pain Has No Gender
I have witnessed this countless times when parents bring their male children to get a shot, and they start scolding the boy if he becomes jittery or cries. I hear them say things like "Aren't you a man?" or "You're supposed to be a soldier," and it breaks my heart to witness these scenarios and hear these words.
We are grooming boys to not feel pain or to repress their pain. Instead of focusing on the child's pain, we shift our attention to our expectations of him. So, it's acceptable for baby girls to cry when they are in pain, but it's not acceptable for boys? When will we realize that pain has no gender?
Pain is pain. It is not selective or biassed. Everyone has a different pain threshold, but that doesn't mean we don't all feel it. We can all go through the same experience, and our reactions will vary.
This should discourage comparison. Saying things like "Your sister didn't cry when she got her shot, why should you?" or "You're such a girlie" while referring to a boy child is inappropriate in my opinion. Some girls can endure more pain than some boys, and that doesn't make one superior to the other. Emotions such as joy, anger, and anguish are expressed differently by different individuals, influenced by various factors.
I understand that no one wants a weak child, but I dare say that children observe and absorb. How do you teach your boy to be strong if you are a coward yourself? Sometimes, we shame these kids because they remind us of ourselves and our own shortcomings. Why should they pay the price for another person's sins?
For some of us, it's just generational trauma being passed down through the generations. We don't know better because we haven't taken the time to unlearn certain things and heal from our past hurts.
Perhaps, if little boys are not humiliated, we wouldn't have so many insecure men in society today. If boys were allowed to express themselves and taught how to regulate their emotions, maybe we wouldn't have grown men trapped in adult bodies seeking any means of release or escape they can find. Perhaps we wouldn't have abusive or emotionally unavailable men. If boys are not taught, how can men learn?
We wonder why many men struggle with self-esteem and self-security. It's because as boys, they were taught to hide their pain and conceal parts of themselves that weren't 'acceptable' to culture. Only when they grow up do they try to discover who they truly are.
Boys should be taught that pain and anger are not inherently bad. It is the way we choose to express these emotions that determines whether they are positive or negative. They should see us embody the qualities that make a person credible, such as character, chivalry, passion, wisdom, empathy, integrity, diligence, discipline, and emotional intelligence, among others, so that they can learn from these examples. They should be taught that their pain is valid, but it should be expressed in a healthy manner.
Above all, this tradition of shaming boys for crying or expressing their pain, especially when it is valid, must stop. It won't end in a day, but together, one day at a time, we can achieve it. You can contribute to the wholesome development of the boy child by playing your role, providing support, and lending your voice to this cause: that pain has no gender.