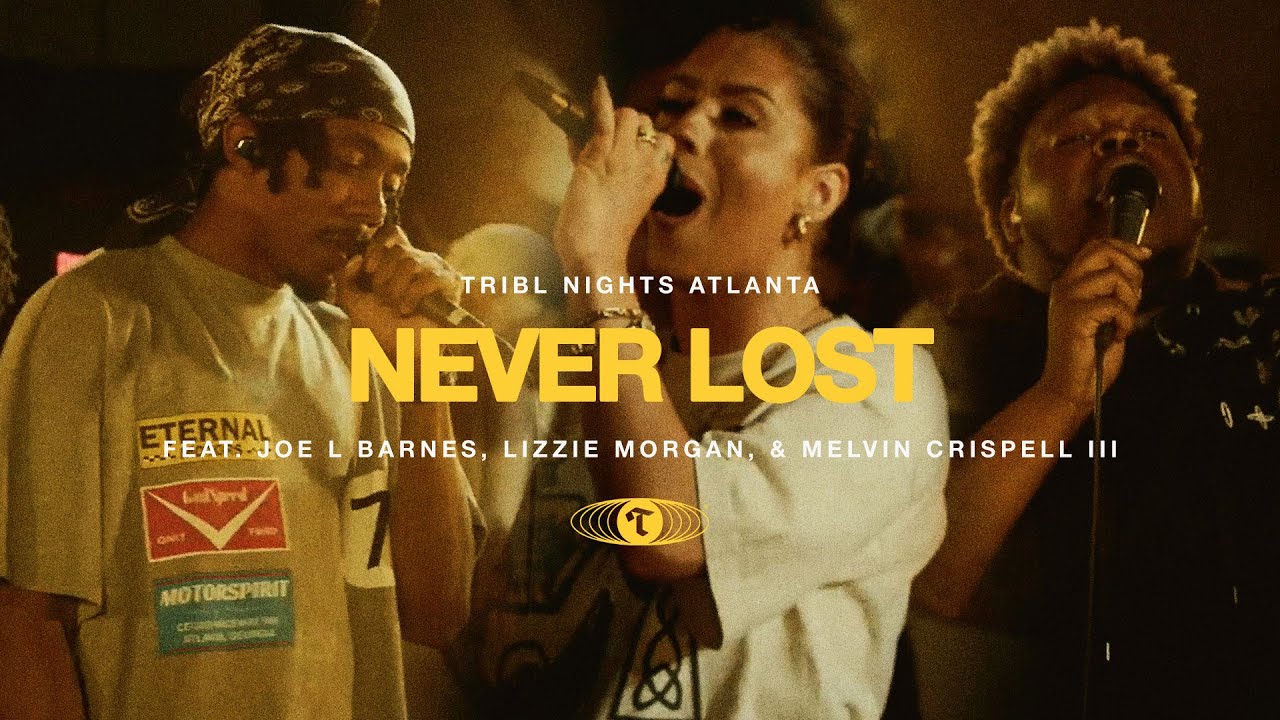 Download Mp3: Never Lost – TRIBL Ft. Joe L Barnes, Lizzie Morgan & Melvin Crispell III
TRIBL offers official music video for "Never Lost" featuring Joe L Barnes, Jonathan Traylor & Lizzie Morgan.
"Never Lost" was written by Catherine Mullins & Rita Springer. It is the first single from Tribl Records' newest album, 'Tribl Nights Atlanta' released November 12th, 2021.
Tribl is where artists with different stories come to share and experience the genesis of a new worship sound. To worship together with raw, unique, powerful and authentic praise. This video was captured in Atlanta during several live worship nights in the summer of 2021. It features Maverick City Music artists, the Tribl Choir, and many other Tribl family and friends.
Watch Video & Download Audio Below
Lyrics
He is my faithful Father, calling me out of the dark
Night cannot whisper away what He said in the light
He is my firm foundation, my anchor won't be moved
Storms may collide but my soul is on fire with His word
Wind, listen to the sound of power on my lips
Jesus has broken the curse, He has never lost a battle
Who are you great mountain, that you should not bow low
Jesus defeated the darkness, He has never lost a battle
And He never will, He never will
He is my faithful Father, calling me out of the dark
Night cannot whisper away what He said in the light
He is my firm foundation, my anchor won't be moved
Storms may collide but my soul is on fire with His word
Wind, listen to the sound of power on my lips
Jesus has broken the curse, He has never lost a battle
Who are you great mountain, that you should not bow low
Jesus defeated the darkness, He has never lost a battle
Wind, listen to the sound of power on my lips
Jesus has broken the curse, He has never lost a battle
Who are you great mountain, that you should not bow low
Jesus defeated the darkness, He has never lost a battle
Christ Redeemer, we remember He has won the war
Jesus, Mighty Overcomer, our Defender has conquered
Christ Redeemer, we remember He has won the war
Jesus, Mighty Overcomer, our Defender has conquered (x2)
Wind, listen to the sound of power on my lips
Jesus has broken the curse, He has never lost a battle
Who are you great mountain, that you should not bow low
Jesus defeated the darkness, He has never lost a battle (x2)
Who are you great mountain (x4)
That you should not bow low
Jesus defeated the darkness
He has never lost a battle
And He never will (x8)
Wind, listen to the sound of power on my lips
Jesus has broken the curse, He has never lost a battle
Who are you great mountain, that you should not bow low
Jesus defeated the darkness, He has never lost a battle
With the One who has conquered it all
(I am seated) With the One who has conquered it all
With the One who has conquered it all
(I am seated) With the One who has conquered it all
You name it He overcame it (x4)
I saw it with my own eyes (x4)