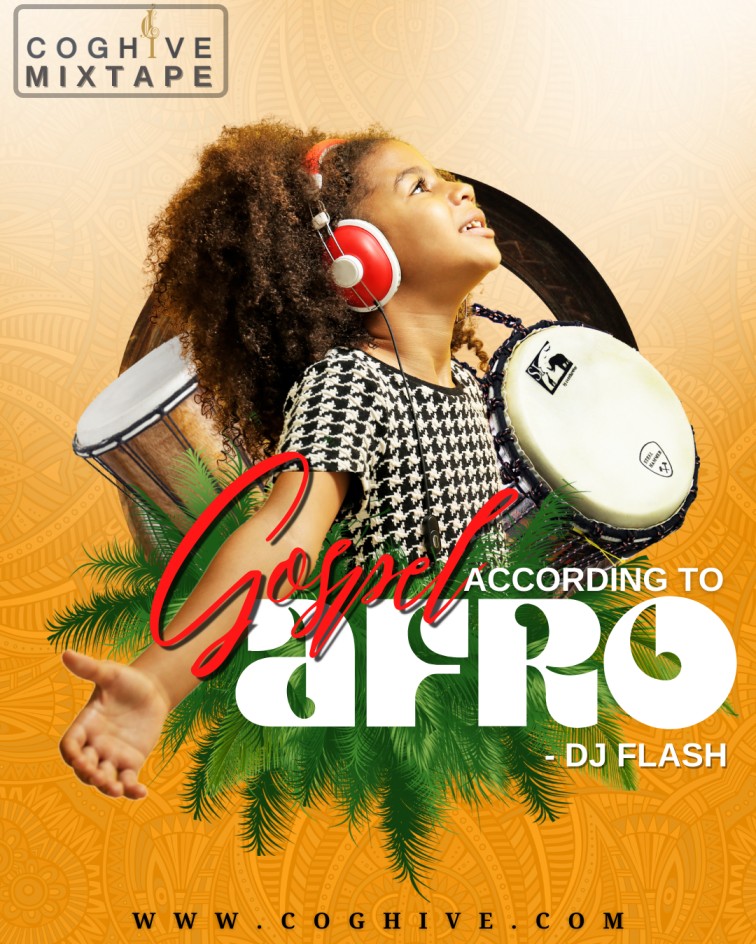 Download Mixtape : Gospel According To Afrobeats – Dj Flash X COGHIVE Media
AFROBEATS Yeah? With beaming smiles and our hearts full of joy it gladdens all of us at COGHIVE Media to announce the release of our anticipated mixtape dubbed GOSPEL ACCORDING TO AFROBEATS with our in-house DJ FLASH.
GOSPEL ACCORDING TO AFROBEATS is not just our first mixtape for the year 2022 but our first in more than two years, It has been our desire to make this a reality, but for some reasons God has been orchestrating our paths towards unleashing this masterpiece this particular day and time.
Nigerian Afrobeats, Ghana Afrobeats has taken the world by storm in the past 2 years, Mainstream artistes like Burna Boy, Wizkid and their likes giving their contemporaries irrefutable reasons to tag Afro Beats as "the new pop" has further propelled the African musical heritage across Europe and the globe at large, Thanks to some Afrobeat DJs a lot of people take out time to make Afrobeats playlist.
However the gospel music sphere is not shying away from this musical evolution as amazing artists like Limoblaze, Gil Joe, Marizu, Protek, Oba Reengy, Prinx Emmanuel, Ada Ehi, Afolake and a plethora of others have not only found this new genre but are blazing the trails on multiple fronts in the acclaimed AFROGOSPEL.
It has always been our vision on this platform to showcase the amazing things happening in Gospel Music even as we further celebrate the creativity, grit and strides of amazing gospel artists, bands or groups in the industry, hence the compilation of some selected AFROGOSPEL songs hitting the waves.
Listen & Download Below
127mb
So while prepping for our big release, we selected three people by merit, just to have their honest review of our special mixtape read below:
This mixtape is really dope, like It's amazing to see and hear how creative and versatile gospel artistes can be, the detailing, song selections and mix👍🏻

Precious Agboola (Music Enthusiast)
I feel so elated getting the opportunity to share my review about Coghive's "Gospel According to Afrobeats" mixtape. Honestly and truthfully, as a music person, one of the things I enjoyed the most is the choice of songs, the words behind each song and mehn, the transition from one song to the other is totally superb, not to mention, it's gonna keep you dancing and waltzing none stop for over an hour. Amazing, isn't it?..

See, I don't care what you think you know about COGHIVE but I assure you, you're out of date cos right now, whatsoever COGHIVE brings to the table right now is really worth diligently paying attention to and I highly recommend "Gospel According to Afrobeats" to every listener and music lover out there and I guaranty satisfaction beyond just the music and also, the power backing up the lines of each song carefully selected by music ministers whom God has ordained to preach the gospel to the world through the powerful gift of music.

Remain blessed as you take out time to listen to this mixtape.

– Shadrach Omololu (Excellent Drummer)