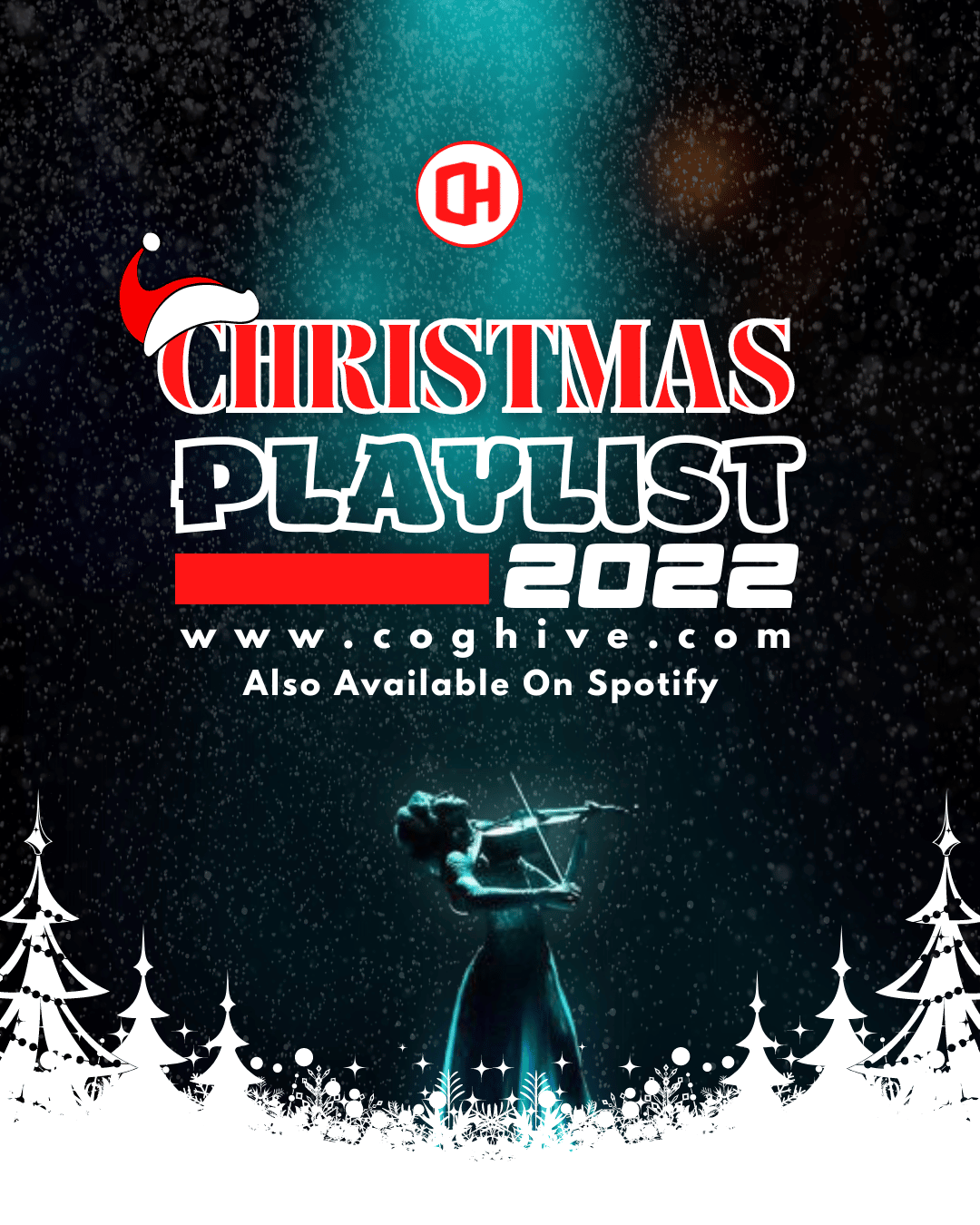 [Download] Coghive Christmas Playlist 2022
Today, December 2nd, COGHIVE presents her 2022 Christmas Playlist, the sixth in a series of incredible playlists that have left our devoted audience spellbound and in step with the cadence of the season.
Christmas is a time to celebrate the birth of Jesus Christ and to reflect on how God's great love for humanity was manifest in the humble form of a baby.
In keeping with tradition, we've spent some time selecting songs from the most recent Christmas/Holiday albums to curate playlists flavored by the season's abundance of ballads, Carols, and other unique kinds of musicals and poetry.
Our 2022 Christmas Playlist is a collection of some of the most recent delightful Christmas songs by innovative artists and bands who have graced us with top-notch musicals, including Pentatonix, Lindsey Stirling, Phil Wickham, Ellie Holcomb, Benny John Joseph, The Spirituals, Pst. Mike Jr. CalledOut Music, Crowder, VOUS Worship, Marizu, and the extraordinary Tye Tribbett with the bonus track.
To be honest, we were floored by the overwhelming positive response to our prior playlist and are quite appreciative.
Without a question, this 2022 PLAYLIST is a cut above the others. We look forward to hearing from you and know that you and your loved ones will be richly blessed as a result of listening to it.
Lastly, we hope you and your family never miss out on the spirit of the season.
Feliz Navidad! Prospero Ano Y Felicidad.
(Have a Merry Christmas! And an incredible 2023.)
Coghive Christmas Playlist 2022
Download zipped file 115mb HERE
| | | |
| --- | --- | --- |
| SN | Tracks | Download |
| 1 | Sounding Joy – Ellie Holcomb | Download |
| 2 | Glad Tidings – Ellie Holcomb | Download |
| 3 | Without You – Marizu | Download |
| 4 | O Come O Come Emmanuel When Hope Was Born – VOUS Worship | Download |
| 5 | Its the Most Wonderful Time of the Year – Pentatonix | Download |
| 6 | Love Came On Christmas Joy To The World x Kumama Papa – Pentatonix | Download |
| 7 | Hark The Herald Angels Sing ft Hiba Tawaji | Download |
| 8 | Behold – Phil Wickham feat Anne Wilson | Download |
| 9 | Everyday Is Christmas – Sia | Download |
| 10 | Vinnilae – Benny John Joseph | Download |
| 11 | Joy To World Joyful Joyful Live From The Chosen | Download |
| 12 | O Holy Night Beautiful Saviour – The Spirituals ft KayeMarie Niiella | Download |
| 13 | Angels We Have Heard On High – Awaken Worship | Download |
| 14 | Excelsis Deo – CalledOut Music | Download |
| 15 | Jingle Bells – Pentatonix ft Lang Lang | Download |
| 16 | Carol Of The Bells – Crowder, Tommee Profitt | Download |
| 17 | Deck The Halls – Lindsey Stirling | Download |
| 18 | God Rest Ye Merry Gentlemen | Download |
| 19 | This Christmas Just Jesus – Pst, Mike Jr. | Download |
| 20 | Little Drummer Boy – Lindsey Stirling | Download |
| 21 | Joy To The World – Lindsey Stirling | Download |
| 22 | December 26th (Auld Lang Syne) – Crowder | Download |
| 23 | Feliz Navidad – Lindsey Stirling | Download |
| 24 | Feliz Navidad – Pentatonix ft La Santa Cecilia | Download |
| | BONUS | |
| 25 | Tye Tribbett – IDK | Download |