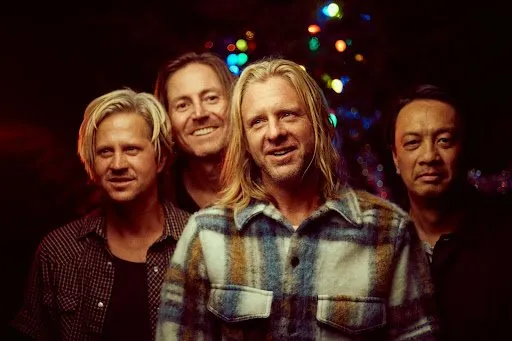 Switchfoot 'This Is Our Christmas Album' Tracklist Revealed
Grammy Award winning rock band Switchfoot announces their new LP, this is our Christmas album, out November 4th. Marking the band's first-ever holiday record, this is our Christmas album finds Switchfoot infusing their signature West Coast sound to a number of holiday classics and five, new original Christmas songs. Cheery, nostalgic and brimming with sunshine, the 11 track collection was inspired by everyone from the Beach Boys to Black Flag, and promises to be the perfect soundtrack for the holiday season with a new California twist.
"Christmas is an emotional treasure chest for a songwriter to pull from," lead Singer Jon Foreman says. "It's a season stretched tight with contradictions: celebrating the free gifts of love and grace with an outburst of materialist capitalist consumption. An emotional roller coaster of family and friends, hopes and scars- bringing out the worst and the best in all of us." A project that's been years in the making, this is our Christmas album, wraps its arms wide around these contradictions.
Alongside the album announcement, Switchfoot announces their North American "this is our Christmas tour" which sees the band visiting Napa, Detroit, Monterey, Anaheim and more. Switchfoot's live show is a force to be reckoned with, and the band's first Christmas tour is no exception. Since the band's creation they've performed to sold out audiences in over 40 countries and have racked up over five million tickets sold. These shows are going to be special as the group, that's been described as "definition of cool" by Vulture, will perform one Christmas themed set, and another set filled with the band's classic hits like "Dare You To Move," "Meant to Live" and more.
"It's truly incredible the way music connects us all: making even strangers feel like family," Jon Foreman says. "To celebrate this season, singing these songs together in the same room is a gift that we can't wait to unwrap. We're so excited to head out on our first Christmas tour ever!"
Artist pre-sale begins today, September 7th at 12pm local time, local tour pre-sales start Thursday, September 8th at 10am local time, and general tour on-sale begins Friday, September 9th at 12pm local time. See below for full routing.
Purchase tickets here: https://switchfoot.com/pages/tour
this is our Christmas album is a follow up to 2021's interobang, which saw the band opt for raw 60's era pop-infused feel and straying away from their typical rock sound. Penned through the pandemic, interrobang celebrates the journey when the destination is unsure. It illustrates the contrast between joy and pain, faith and doubt, and marks a bold new creative peak for the multi-platinum rockers.
THIS IS OUR CHRISTMAS TOUR ROUTING:
Saturday, November 26, 2022  – Knoxville, TN  – Civic Auditorium
Sunday, November 27, 2022 – Huntsville, AL – Mark C. Smith Concert Hall
Tuesday, November 29, 2022 – Charleston, WV – Clay Center
Thursday, December 1, 2022  – Akron, OH  – Goodyear Theater
Friday, December 2, 2022  – Fort Wayne, IN  – Clyde Theatre
Saturday, December 3, 2022  – Ashland, KY – Paramount Arts Center
Sunday, December 4, 2022  – Jim Thorpe, PA – Penn's Peak
Tuesday, December 6, 2022  – Reading, PA  – Santander PAC
Wednesday, December 7, 2022  – Detroit, MI  – Motor City Casino
Friday, December 9, 2022  – Kansas City, MO – Uptown Theater
Saturday, December 10, 2022  – Wichita, KS – The Cotillion
Sunday, December 11, 2022 – Boulder, CO – Boulder Theater
Wednesday, December 14, 2022 – Redding, CA – Cascade Theatre**
Thursday, December 15, 2022 – Napa, CA – Uptown Theatre
Friday, December 16, 2022 – Monterey, CA – Golden State Theatre
Saturday, December 17, 2022 – Anaheim, CA – City National Grove
Sunday, December 18, 2022 – Mesa, AZ – Ikeda Theatre
**Artist Pre-Sale: 9/9 – 9/13 / General On-Sale: Wed 9/14
THIS IS OUR CHRISTMAS ALBUM TRACKLISTING:
1. California Christmas
2. Looking For Christmas
3. Christmas Time Is Here
4. Scrappy Little Christmas Tree
5. Silent Night / It Came Upon A Midnight Clear
6. I Heard The Bells On Christmas Day
7. Midlife Christmas
8. Interlude (Everybody Knows A Turkey)
9. The Christmas Song
10. New Year's Day
11. O Little Town Of Bethlehem