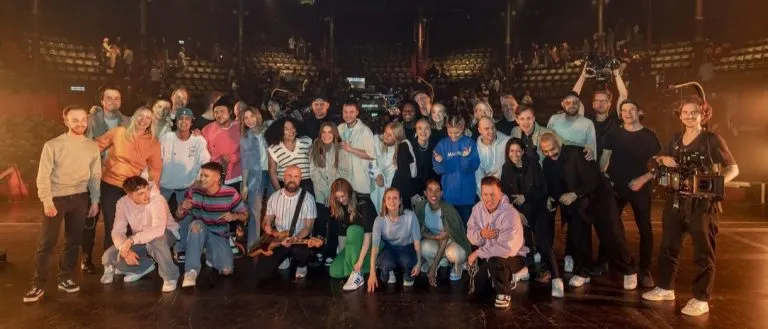 Stockholm Worship Debuts 'Other Side' Presented By Hillsong
New songs are not supposed to just be listened to, but sung. This defines the 14 live tracks found on Other Side, the debut album from Stockholm Worship, presented by Hillsong Capitol CMG.
"It's important for people to understand who we are and what this album is," Eric Liljero, Stockholm Worship's creative pastor, explains. "We're not a band or a worship artist.
Stockholm Worship is a local worship team who loves the local church and over the past couple of years, we've been writing songs for our church and God's been breathing on them out of nothing.
They've become weapons, speaking life into people's situations. We chose to call the album Other Side, not only because Stockholm is on the 'other side' of the world for most people, but mainly because there's another side to whatever we're going through when God decides to show up."
Stockholm Worship Debuts 'Other Side' Presented By Hillsong
Stream & Enjoy
Early in the process, the team went into writing these songs in English, their second language, and rooting from Scripture to lead the way.
Focusing on a strong and deep desire to bring glory to Jesus and melodies ingrained from their Swedish heritage, worship team member Jonatan Brandström shares, "We wanted the songs to be simple enough for everyone to be able to sing them if English is your first language or not, but we still wanted depth inside the worship songs.
Our prayer is that these songs will be able to put words to your prayer, to articulate whatever season you're going through."
A few of the songwriters involved in the project are Stockholm Worship's Eric Liljero (co-writer of "Cornerstone") and Jonatan Brandström, as well as Reuben Morgan (of Hillsong Worship), Melody Wagner (of Young & Free), Josh Grimmett (of Goodboys), and Nick Herbert (Worship Central), among many others.
For more than 15 years, Stockholm Worship, the creative team of Hillsong Sweden, has been leading worship every Sunday at its various locations around the country. A longing has been growing to bring forth new and fresh worship, and they're more than ready to share the Other Side with the world.