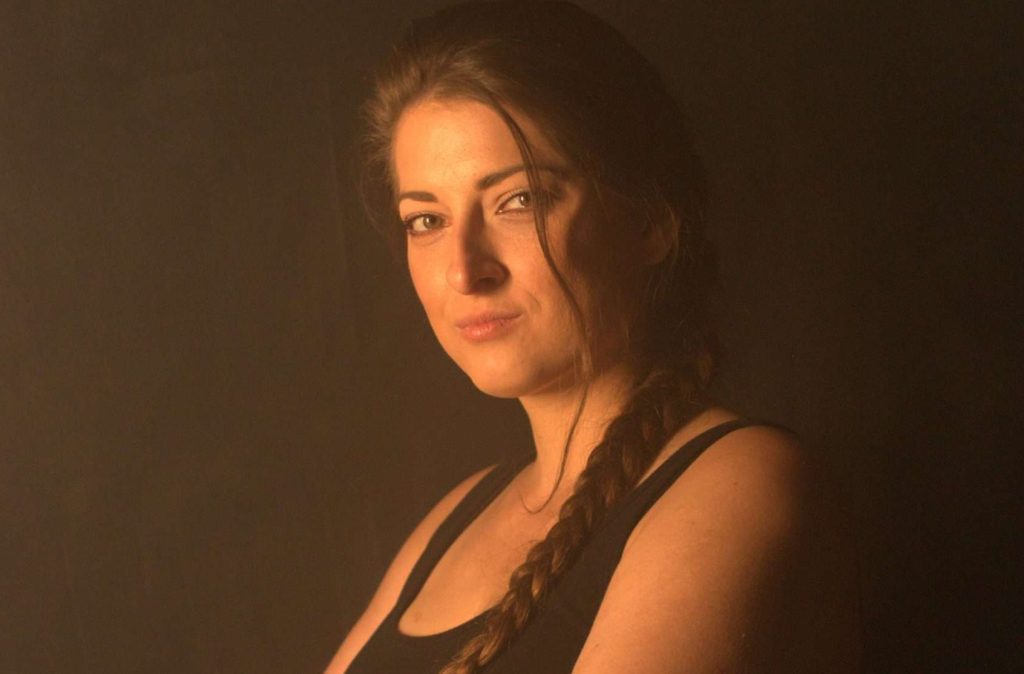 Briana Domenica "Here I Stand" Music Video
Contemporary Christian singer/songwriter and inspirational speaker Briana Domenica is excited about the worldwide release of her powerful new music video, "Here I Stand." Emerging from raw emotion and a deeply personal place, Domenica takes viewers on her fight through the darkness of despair; battling doubts and fears.
With God by her side along with her faith, strength, and determination she stands victorious in the battle. "Here I Stand" was written to uplift and provide hope for tomorrow. The video exclusively premieres on CCM Magazine.com on Wednesday, Nov. 15th at 10 AM CST. 
The video was directed and produced by Tyler Adams/Sora Entertainment. It was filmed at Club Knockout in LaVergne, Tennessee.
"On the surface, this song is about overcoming obstacles, but it's so much more than that," reflects Domenica. "It is actually about the spiritual battle we are faced with every day. We have an enemy and John 10:10 says he comes to kill, steal, and destroy.
Oftentimes it feels like we are on the losing end of that battle, I know recently I have, but God has used this song and video to remind me that with Christ I can keep fighting and ultimately win the battle.
Tyler and I were very deliberate in our treatment for this video and how to go about bringing these lyrics to life. We wanted to personify some of the most common tactics (fear, sorrow, unworthiness) the enemy uses against us, because the truth is every day we are in the fight of our lives on a spiritual level.
The shoot itself was very difficult, but so fun! I got to experiment with doing my own special effects makeup and work with my friend Sam for this video. Plus, it's always a joy working with Tyler and his lovely wife Anna.
It was the most physically challenging video I've ever done and doing ALL my own stunts was definitely harder than I thought it would be. My hope is that everyone who sees this video and hears this song can be encouraged to stand firm in Him and keep fighting the good fight." 
Briana Domenica "Here I Stand" Music Video
Stream & Enjoy
Tyler Adam adds, "I absolutely love working with Briana Domenica. She is such an inspiring artist. Not only is her music driven by her heart for those who are hurting, but she has such a wonderful drive to creatively express her lyrics, which excites those helping with her projects, myself included.
When Briana pitched the music video for 'Here I Stand' to me, I immediately felt enthusiastic to start working on it. We both went back and forth for a good while, brainstorming ideas on how to go about conveying her song's message in visually creative ways. 
On set, I saw her work incredibly hard to make the music video as best as it could be, and her passion was contagious. Our team worked long hours, but it was an awesome experience because we all believed that Briana's work could ultimately change someone's life forever.
It's so much fun to work with a client like Briana, who helps bring out the best in me. I'm inspired by Briana, and I'm sure those who listen to her music will be too. God has given her an incredible talent as a singer and a visionary, and I am so thankful to be a part of her journey in uplifting souls and giving people newfound hope.".
Co-written with Glenn Green, "Here I Stand" was produced by Cedric Isreal and was released on September 1st where it was featured on Radio SoBro's NuMu Friday. It is now available on all digital and streaming platforms.
Briana Domenica has a positive and encouraging message to share with all ages and wants to utilize the power of her music and story to make a difference in the lives of others.