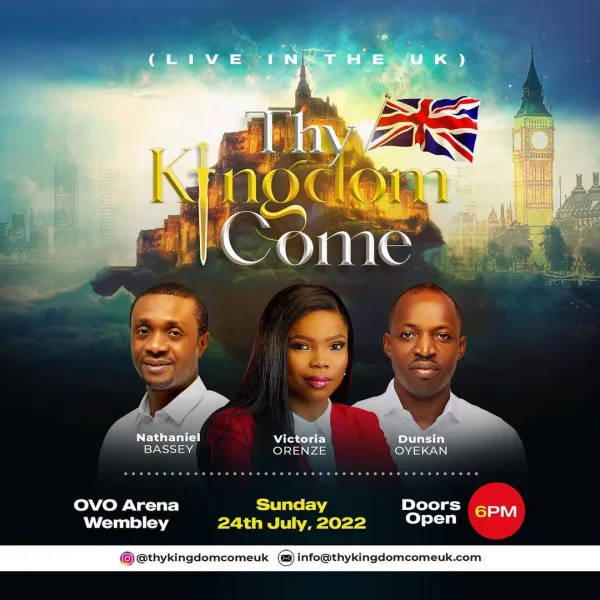 Thy Kingdom Come UK Releases Ticket Date As Nathaniel Bassey, Victoria Orenze and Dunsin Oyekan Set To Minister
Thy Kingdom Come, an interdenominational revival worship meeting that will be held at OVO Arena Wembley, London on Sunday 24th, 2022 has confirmed that its ticket will be out on the 9th of May 2022.
Anointed Gospel music ministers who will be gracing the program live in the UK includes Nathaniel Bassey, a Gospel music minister, recording artist, songwriter, and producer, who also serves as the Pastor of The Oasis- The Youth Church of RCCG, The King's Court. Lagos, Nigeria.
Minister Victoria Orenze, a renowned worship leader, songwriter, and music producer who also serves as a Pastor at Jesus Unhindered Ministry would also be ministering. Nonetheless is also Dunsin Oyekan, popularly referred to as 'The Eagle'; a songwriter, worship revivalist, and convener of the Code Red Worship Experience & The Outpouring revival movements.
Thy Kingdom Come is a God-given project being put together by believers who feel led to contribute to the emblems of the fire of revival that God is stirring in the United Kingdom.