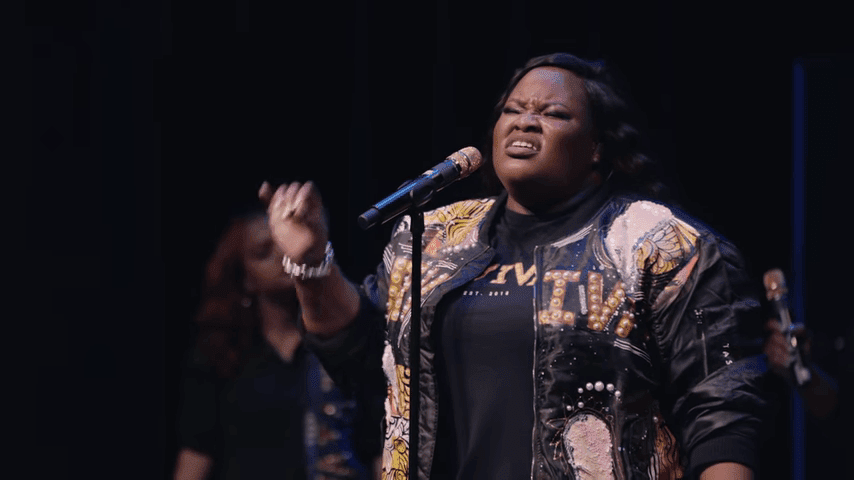 THIS IS A MOVE – Tasha Cobbs Leonard
Grammy award winning songstress, songwriter and worship Pastor Tasha Cobbs Leonard hitting the airwaves with her endearing single "This Is A Move".

The Break every chain exponent is starting the year on a very intense note having strode through 2018 with her awe-inspiring "Heart.Passion.Pursuit." tour.

The graced vocalist is once again ministering healing, breakthrough to those shackled with the vices of the enemy. Indeed, she couldn't over emphasize how "Wonder is still what he does !!".
Watch, Download & Share
Lyrics:
So the song says that…
Mountain are still being moved
Strongholds are still being loosed
God we believe 'cuz yes we can see it
That wonders are still what You do
(I love this one y'all. It says that…)
Bodies are still being raised
Giants are still being slain
God we believe yes we can see it
That wonders are still what You do
We are here for You
Come and do what You do
(Say it)
We are here for You
Come and do what You do
We set our hearts on You
Come and do what You do
'Cuz we need a move
We need a move
We need a move
(Can you shout that out. We need a move)
We need a move
We need a move
And bodies are still being raised, hey!
Giants are still being slain
Oh God we believe it and yes we can see it
That wonders are still what You do
We are here for You
Come and do what You do
We are here for You
(You're the only thing that matters. You're the only One that matters.)
Come and do what You do
(We set our hearts on You)
We set our hearts on You
Come and do what You do
We need a move
We need a move
(Say we need a move)
We need a move
We need a move
Miracles happen when You move
Healing is coming in this room
Miracles happen when You move
Heaven is coming
Somebody say it
Miracles happen when You move
(And we're expecting a move)
Healing is coming in this room
Miracles happen when You move
Heaven is coming
(You've got one more time. Say miracles happen…)
Miracles happen when You move
Healing is coming in this room
Miracles happen when You move
Heaven is coming
This is a move
(This is a move)
This is a move
(We're standing in the middle of a move.)
This is a move
Oh, oh
This is a move
This is a move
(Miracles, signs, an wonders)
This is a move
(He's about to do what He does.)
This is a move
(You've been waiting, and you've been fasting, and you've been praying.)
Oh, oh
This is a move
(Somebody say, This is…)
This is a move
This is a move
This is a move
Oh, oh
This is a move
We are here for You
Come and do what You do
(Somebody say)
We are here for You
Come and do what You do
(Set our hearts on You)
Set our hearts on You
(Come and do it Lord)
Come and do what You do
We need a move
(We need a move)
We need a move
(You say it. We need a move)
We need a move
(Do what You wanna do)
We need a move
(We're waiting on You. We need..)
We need a move
(We'ev been waiting for You.)
We need a move
(Oh we've been praying for it)
We need a move
(We've been praying for it)
We need a move
(We've been fasting for it)
We need a move
(Oh, oh this is a move)
This is a move
(You've been waiting and you've been praying and it's here right now.)
This is a move
(You've been waiting and you've been praying but it's here right now.)
This is a move
(Oh God have Your way, have Your way, have Your way, have Your way,)
This is a move
(Have Your way, have Your way…)
This is a move
This is a move
(Oh move by Your Spirit, move by Your spirit,)
This is a move
(Move by Your spirit God.)
This is a move
(Cancer has to bow when You move)
This is a move
(Cancer has to bow when You move)
This is a move
(Depression bows when You move)
This is a move