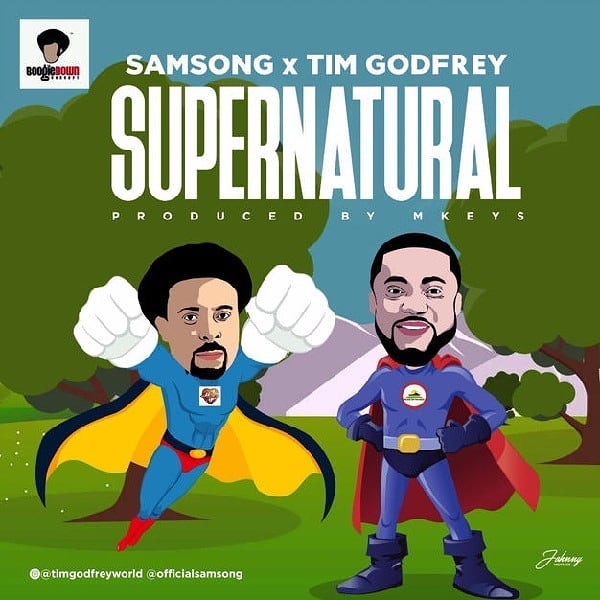 SUPERNATURAL [Audio + Lyrics] – SAMSONG FT DR. TIM GODFREY
Award winning artist and avid vocalist SAMSONG popularly known as ChurchBoy has once again dished out an amazing single SUPERTNATURAL from the stables of Boogiedown Records.
The Abuja based music maestro has never dwindled in being a blessing and has once again delivered on this energetic track having featured one of Nigeria's favored artists and Rox Nation's front man DR. Tim Godfrey.
Indeed the economy, society and even poverty has got nothing on us because we SUPERNATURAL, A sticking message the endearing collab from the dynamic duo has left in our hearts. You would definately want to have this on your playlist.
DOWNLOAD AND ENJOY
LYRICS
[Intro] It's the Churchboi, Samsong
I've got my brother, Tim Godfrey on this one
I have the power of the Holy Ghost at work in me
I can do anything
I can be anything
I'm not a natural man, I'm Supernatural
Super Human Supernatural X12
How did I make it?
How did I overcome?
How did I dominate?
How did I triumph?
Economy
Gat nothing on me
Society
Gat nothing on me
Poverty
Gat nothing on me
Cause I live by the Spirit
Live by the Spirit
Sickness
Gat nothing on me
Recession
Gat nothing on me
Your People
Gat nothing on me
Cause I'm Ten times better
Ten times better X5
Ten times, Ten Times, Ten times
Ten times, Ten Times
Ten, Ten, Ten, Ten, Ten, Ten
Ten times better
We are Supernatural
Supernatural X8
Super Human Supernatural X4
How did I make it?
How did I overcome?
How did I dominate?
How did I triumph?
(Tim Godfrey)
The Economy
Gat nothing on me
Society
Gat nothing on me
Even Poverty
Gat nothing on me
Cause I live by the Spirit
Live by the Spirit
Sickness and Disease
Gat nothing on me
Even low self esteem
Gat nothing on me
When they say and what they did
Gat nothing on me
Cause I'm ten times better
Ten times better X5
Ten times, Ten times, Ten times
Ten times, Ten times,
Ten, Ten, Ten, Ten, Ten, Ten
Supernatural X8
Supernatural X8