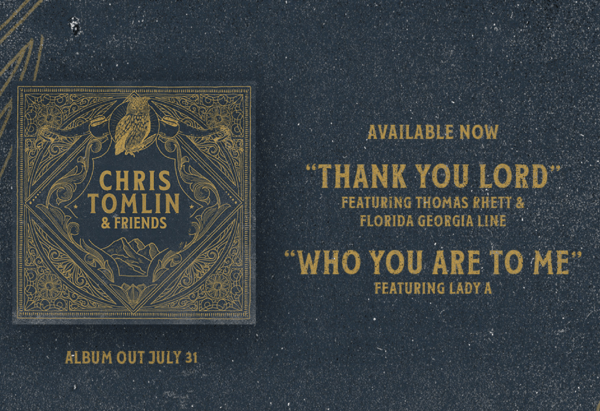 Chris Tomlin – Thank You Lord (Audio) ft. Thomas Rhett, Florida Georgia Line
GRAMMY winner Chris Tomlin offers fresh single Thank You Lord featuring Thomas Rhett & Florida Georgia Line off anticipated 13th project "Chris Tomlin & Friends".
 The album features Brett Young, Russell Dickerson, Chris Lane, RaeLynn, Cassadee Pope, Blessing, Bear Rinehart of NEEDTOBREATHE and  executively produced by Florida Georgia Line. Corey Crowder produced 12 out of 13 tracks with David Garcia producing one track and Ed Cash co-producing one.
 Chris Tomlin & Friends album is set for digital release on July 31.
Listen, Download & Share
LYRICS
Thank You Lord for the small things
Like me and her on the porch swing
For summer nights and fireflies
And the sound of my old sixstring
Blessings on blessings on blessings on blessings
If I still got breath in these lungs
And that's all I need to get down on my knees
And be thankful for all that He's done
For my mama for my friends
For Your love that never ends
For the songs that make us dance
On this ole dirt floor
For my babies for my girl
For the way they changed my world
Waking up today
I just gotta say
Thank You Lord
I just wanna say
Thank You Lord
Thank You Lord for the hard times
For lighting the way in the dark times
For pulling me in forgiving again
The times that I took it too far
God I thank You for keeping me humble
For picking me up when I stumble
And although I change, You stay the same
And I don't say thank You enough
For my mama for my friends
For Your love that never ends
For the songs that make us dance
On this ole dirt floor
For my babies for my girl
For the way they changed my world
Waking up today
I just gotta say
Thank You Lord
I just wanna say
Thank You Lord
Praise up
Eyes closed
One thing I know
I just wanna thank You Lord, thank You Lord
Praise up
Eyes closed
One thing I know
I just wanna thank You Lord, thank You Lord
For my mama for my friends
For Your love that never ends
For the songs that make us dance
On this ole dirt floor
For my babies for my girl
For the way they changed my world
Waking up today
I just gotta say
Thank You Lord
Praise up
Eyes closed
One thing I know
I just wanna thank You Lord, thank You Lord
Praise up
Eyes closed
One thing I know
I just wanna say
Thank You Lord