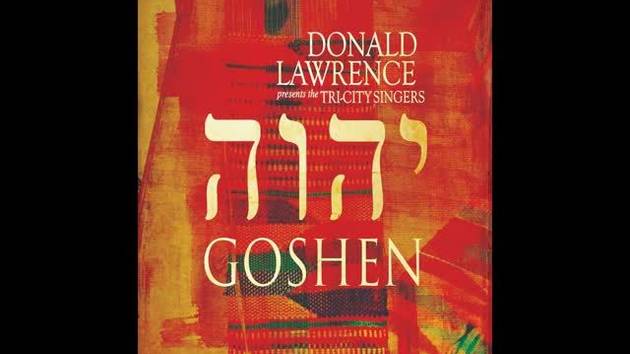 All You Need To Know About Donald Lawrence's "GOSHEN" Album.
Ecclesiastes 1:9 (NIV) – "What has been will be again, what has been done will be done again; there is nothing new under the sun." This year, Donald Lawrence is taking us back to Goshen in the Book of Exodus—and reminding us why the story is just as relevant today.
Goshen (RCA Inspiration) will reunite GRAMMY® Award-winning singer-songwriter-producer Donald Lawrence with the original Tri-City Singers. The album will also mark the 25th anniversary of A Songwriter's Point of View, the 1993 debut recording by Lawrence and the Carolina-based Tri-City Singers.
Genesis 45:10 (NIV) (God speaking to Israel) – "You shall live in the region of Goshen and be near me – you, your children and grandchildren, your flocks and herds, and all you have." Located in Egypt, Goshen was the place given to the Hebrews by one Pharaoh, but another Pharaoh arose, and felt they were becoming too powerful so he enslaved them. This land was blessed by God, it is stated God's presence resonated high there. But for Lawrence, Goshen is more than a physical location—it's a city set apart (Exodus 8:22-23).
"I think of Goshen as a spiritual zip code," he says, "and those who reside there succeed against all odds. If we have a Goshen mindset, we have a position of faith that God's hand of protection is always around us."
It's a concept Donald Lawrence has been mulling over since gospel songwriter-producer Jermaine Dabney brought him an early version of the song "Goshen" about three years ago.

I wanted to tell the story of Exodus in a unique way," Lawrence explains.  "I didn't want to focus necessarily on the Israelites' departure, but the spiritual concept of Goshen.  There were many years of plagues after the Exodus but Goshen was God's protected place and those living there were oblivious (to the plagues) and prospered."

"The idea is that in these times of new plagues (gun violence, anger, hatred, fear), we need to pray that God's Goshen follows us wherever we go, that our families and those connected to us will still experience supernatural peace and prosperity in these troubling times.  This is a position of faith." 


The GRAMMY® Award-winning Lawrence has put his inimitable stamp on contemporary gospel music as a choir director, solo artist, songwriter, arranger, and producer. Whether for his own projects or for Kirk Franklin, Donnie McClurkin, The Clark Sisters, or Karen Clark Sheard, Lawrence weaves texturally-rich choral patterns that reflect his music conservatory training, his skills forged in the crucible of church music, and his abiding affection for musical theater.
Goshen features stories from the Book of Exodus that serve as metaphors for living a better life.  For example, "He Heard My Cry" suggests that each of us has a Pharaoh within us. "And the song says it's time to tell that Pharaoh to let you go," Lawrence says.  "What is controlling you can't control you any longer."  He describes the song's sonic underpinning as "starting out like a long-meter hymn and becoming tribal-trap-meets-typical-Tri-City.  It's like nothing you've ever heard."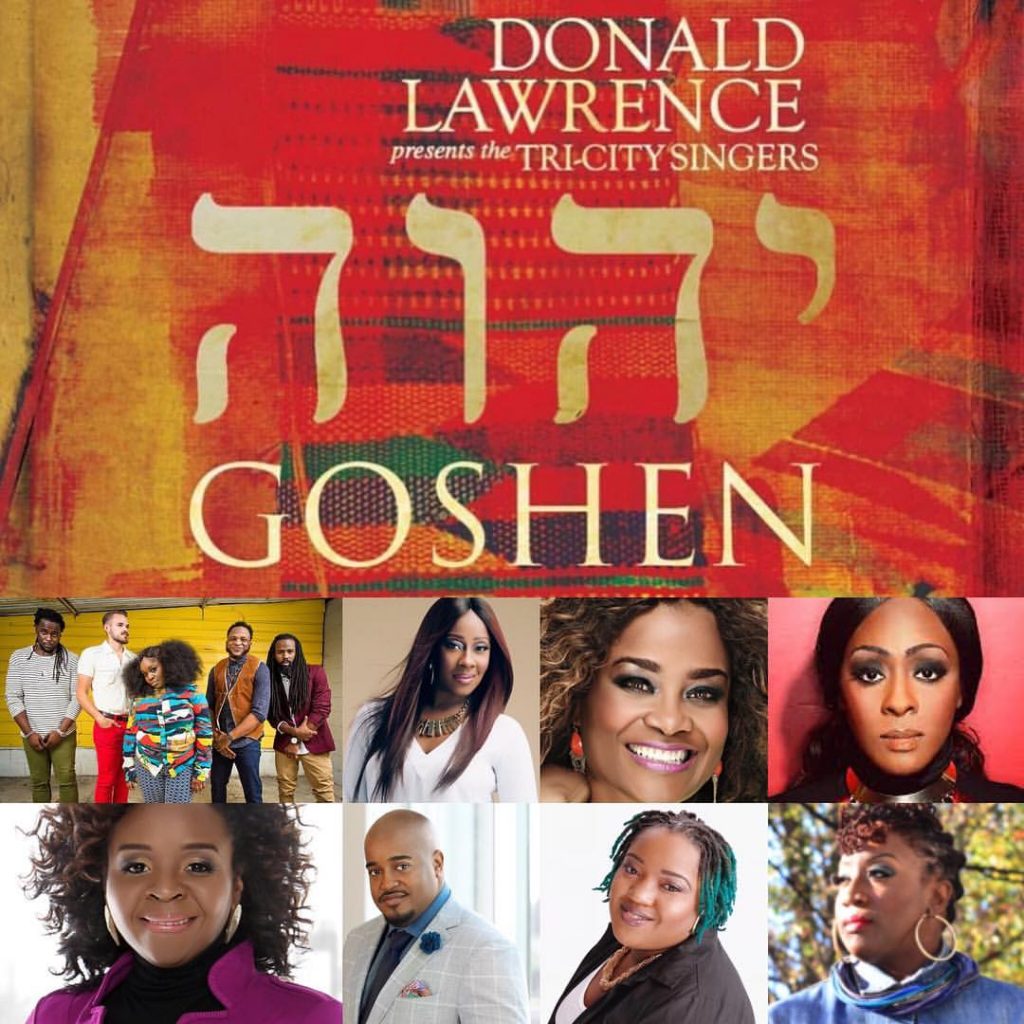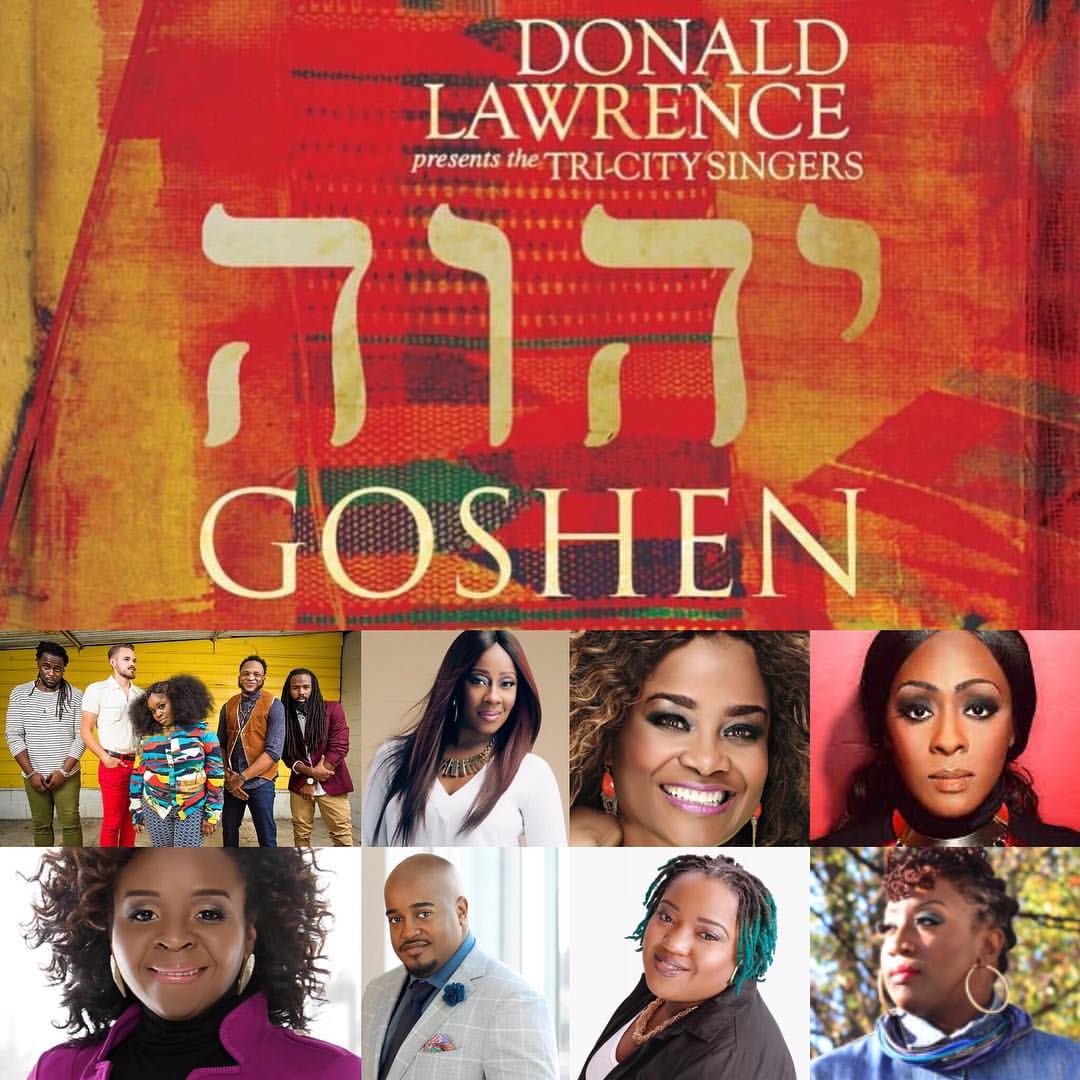 "He Heard My Cry" also showcases talented Chicago-based hip-hop artist Sir the Baptist (who also co-wrote and co-produced the song).  Lawrence met Sir eight or nine years ago while teaching music business at Columbia College Chicago.  A huge Tri-City Singers fan since childhood, Sir is one of Goshen's several collaborators.  Sir also serves as a Co-Producer of the album.
New Orleans hip-hop combo Tank and the Bangas, who won the 2017 NPR Tiny Desk Contest, is another collaborator. The group appears on "Let My People Go," a song that uses Moses' declaration to Pharaoh to speak out against today's social injustices.
"The Sound of My Breathing (YHWH)" takes its concept from when Moses was at the burning bush, when he asked God His name and he heard the sound of the wind (Exodus 3:13-14). For Lawrence, pronouncing the Hebrew name for God transcribed into English lettering, YHWH, is like breathing YH (inhale) WH (exhale).
"The first thing we do when we are born and the last thing we do before we die is take our last breath,"Lawrence says.  "With every breath, we say God's name. His name is the sound of our breathing."
The senses also appear on "The Voice of the Blood," a song based in part on Exodus 12:12-13, when lambs' blood smeared on the doors of Egypt kept the angel of death away.  It's also based on the murder of Abel by his brother, Cain.  Lawrence explains:
"At that time, the blood spoke revenge, but when Jesus died, His blood spoke mercy. The point is that Jesus's blood speaks a better word than the word the blood spoke to Cain and Abel."
Download :::: GOSHEN 432 hz – Donald Lawrence Ft Sheri Moffett here
"Sir the Baptist calls the album 'choral theater,' Lawrence says.  "To me, it's choral theater mixed with traditional gospel, contemporary gospel, some hip-hop and trap music.  It has Sunday morning music with some edge, old-school samples, rap and hip-hop, and tribal sounds.  The record is sonically unique.  It's been one of the hardest records to get out of my head because it is so different."
But in the end, it's all about the story.
"I like my songs to tell stories and teach spiritual wisdom, to help others live a better life," Lawrence says. "I always try to give a solution or a resolution, a remedy for how to get through these particular times. That's what gospel music has always done and should always do."
To mark the 25th anniversary of his debut album with the Tri-City Singers, Lawrence has gathered nearly all of the original choir members to participate on Goshen.  One of the new members is the daughter of Robin Rowe-Stewart, a Tri-City singer who Lawrence first met when they were in first grade, but who passed away from breast cancer in 2002.  "Her daughter is a singer and sounds so much like Robin, it's unbelievable!" he says.
It's been a busy time for Lawrence as he's toggled between working on Goshen, performing, and serving as vocal score arranger for Born for This: The BeBe Winans Story. The new musical, which tells the story of BeBe & CeCe Winans through BeBe's eyes, has played Atlanta, Washington DC, Los Angeles, and Boston. Opening a show on Broadway has always been his dream, and Born For This is Broadway-bound.
 

"I want music to be authentic and inspired," Lawrence responds.  "I want to write music that helps people not only get through the week, but look at life through a different set of eyes.  And if it's new and it shifts the culture, it just does".
Original Post was made at blackgospel.com