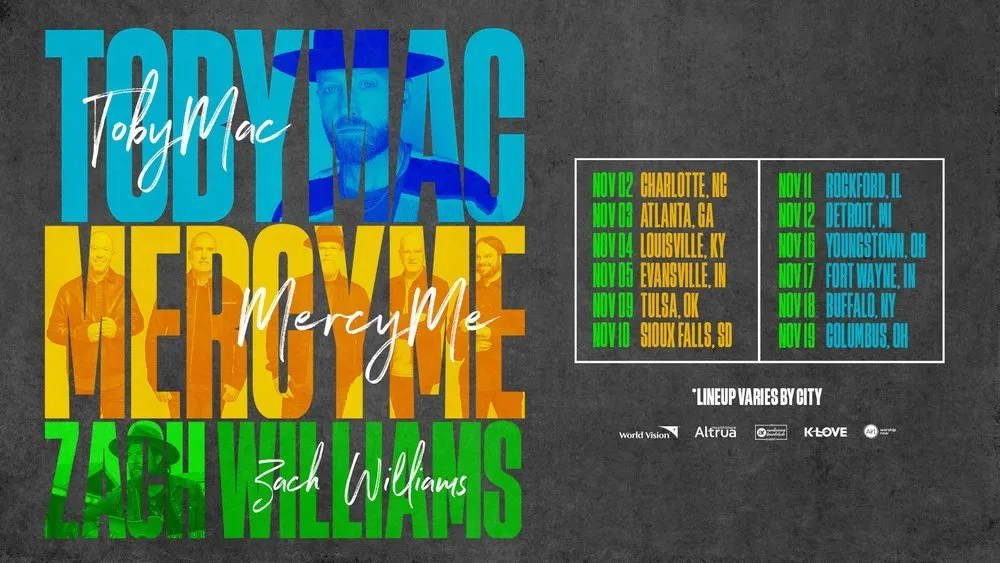 TobyMac, MercyMe & Zach Williams Will Share The Stage This Fall
The Awakening Foundation, powered by Awakening Events, announces the not-to-be-missed tour coming this fall. For the first time in history, three of the most popular artists in Christian music – TobyMac, MercyMe, and Zach Williams – are teaming up for an unforgettable concert experience. Running for twelve dates throughout November, this trio of award-winning musicians will hit key markets including Atlanta, GA, Tulsa, OK, Detroit, MI, and Buffalo, NY. The tour is sponsored by World Vision and Altrua HealthShare.
With numerous chart-topping songs joined by a commitment to spreading God's love through music between them, MercyMe, TobyMac, and Zach Williams will take the stage to share fan favorites as well as deliver an uplifting experience that will surely leave every concertgoer feeling inspired.
Beginning today and running through April 10, fans can gain access to an exclusive pre-sale by texting the word PRIORITY to #615-813-6017. The pre-sale begins April 12 at 10am local time and ends April 13 at 11:59pm local time. Fans who sign up in advance will receive an access code via text message on April 11.
"The Awakening team couldn't be more thrilled to bring together the talents of TobyMac, MercyMe, and Zach Williams for this incredible tour," states Dan Fife, founder and President of Awakening Events. "Each artist brings their own unique sound and style to the stage, and we can't wait to see them unite to create an unforgettable, once-in-a-lifetime experience for fans."
General ticket sales begin Friday, April 14 at 11am CT/12pm ET by visiting HERE.
Official tour dates:*
Thurs., Nov. 2 – Charlotte, NC
Fri., Nov. 3 – Atlanta, GA
Sat., Nov. 4 – Louisville, KY
Sun., Nov. 5 – Evansville, IN
Thurs., Nov. 9 – Tulsa, OK
Fri., Nov. 10 – Sioux Falls, SD
Sat., Nov. 11 – Rockford, IL
Sun., Nov. 12 – Detroit, MI
Thurs., Nov. 16 – Youngstown, OH
Fri., Nov. 17 – Ft. Wayne, IN
Sat., Nov. 18 – Buffalo, NY
Sun., Nov. 19 – Columbus, OH
*artist lineup may vary; be sure to visit the tour page for the most up-to-date information