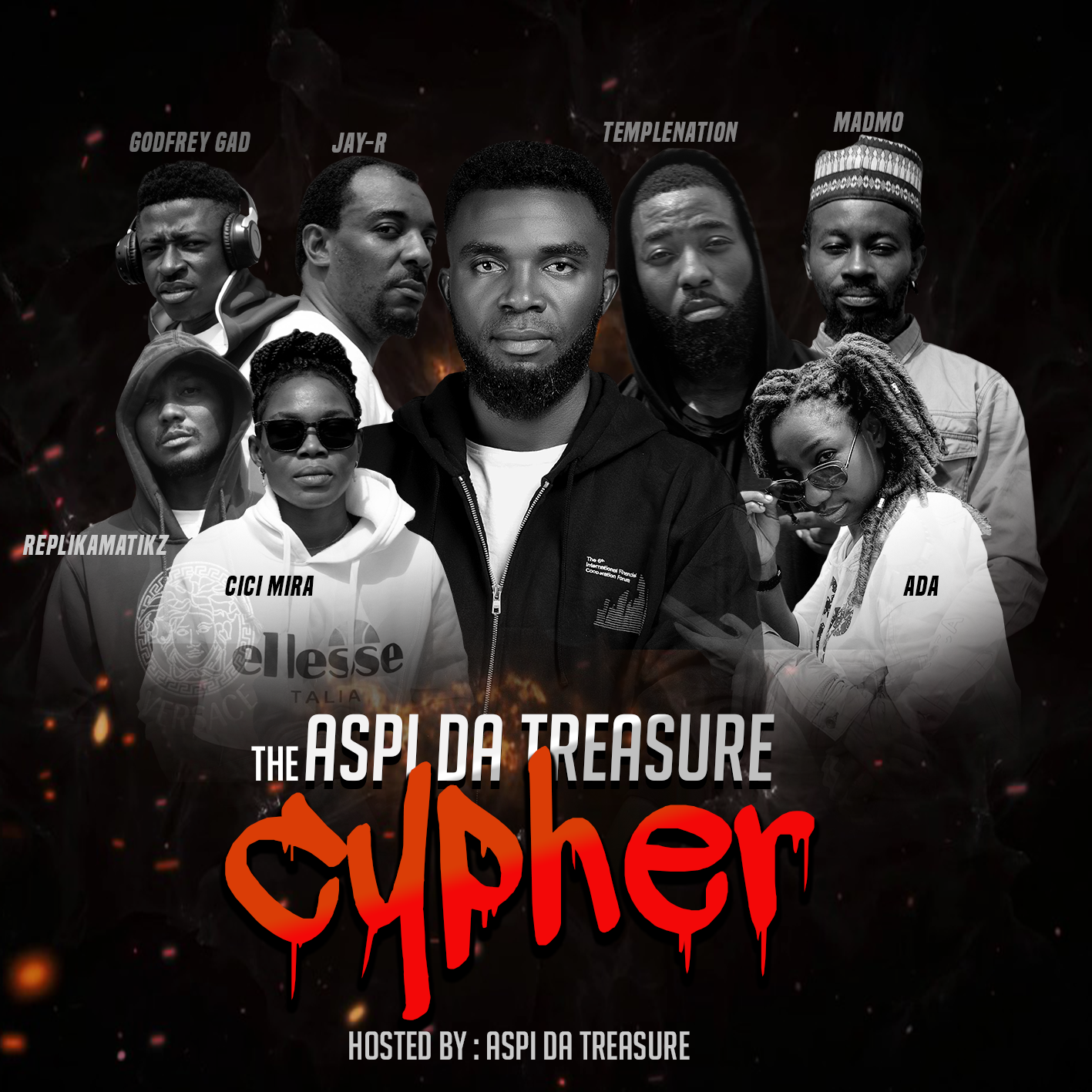 Download Mp3: THE ASPI DA TREASURE CYPHER – Aspi Da Treasure
Nigerian Christian Hip Hop Recording Artist, Song writer, Aspi Da Treasure features Temple Nation, Jay-R, Godfrey Gad, Madmo,Cici Mira, Ada, and Replikamatikz on latest musical endeavor dubbed The Cypher.
"All things without Christ Equals to Vanity, is beyond music! It is a medium to communicate Christ in a more effective, engaging and productive manner, the aim of the Cypher is to leverage the Hip Hop tool to RE-INTRODUCE Christ to the masses, thereby bringing many to LIGHT, providing an express escape route for the captives from the Kingdom of darkness. The anchor Scripture is John 15:5, …..for without me, ye can do nothing" Christ must be at the center of every life & every adventure for it to be truly successful" – Aspi Da Treasure
Watch Video Below
ABOUT ASPI DA TREASURE
Aspi Da Treasure is Nigeria Urban Christian Hip Hop Recording Artist, Song writer, Creative Graphics Designer, Prolific Video Editor and an Architect. Based in Abuja, Nigeria. He is the elected president of CHH Abuja ( Christian Hip Hop Abuja) and also an active member of FOGMMON ( Fellowship of Nigeria Music Ministers) Aspi Da Treasure Started Rap Since 2008, With a Unique Sound and has been consistent with it to date, According Aspi Da Treasure, "Music my
tool for soul winning and societal impact"
As a Christian Rapper , Aspi Da Treasure goes hard for Jesus, with Christ-Focused Rhymes, Biblical founded Lyrics plus head-nodding beatz..He has Several Hit songs like, "So Faithful". Jesus In My DNA, Touch Not
E'dey Answer and a Complete Studio Album titled "DNA" Which dropped 26th May 2019 and several music videos that have recorded several airplays on several local TV channels including A.I.T , ITV, NTA, CBN etc along side many TV interviews.
Aspi Da Treasure co-hosted the Elevate Tour Abuja with Dj Ernesty on the 13th sept 2019 with features like Nutty Josh, Protek, Sokleva (RoofTopMcs), DaBoomsha, Obareengy, Gad, Seiba and Temple Nation….
Has Performed on same stage with Renowned Artists Such as , Chris Morgan, Samsong, Solomon Lange, Asu Ekiye, Rooftops MCs, Protek, TempleNation, Shobaraka, Da Truth, Jazreel, Madmo, and other great Ministers..
Aspi da Treasure believes Jesus is Key to all doors of life and has Made Up his mind for Christ..He is the Answer to all human questions…
I.G.           @aspi_datreasure
Twitter      @aspi_datreasure
YouTube :. Aspi Da Treasure Fb : Aspi Da Treasure
Bookings : 08135581980 (WhatsApp Only)
[email protected]